Season tickets
Regala uno de los abonos para la temporada de conciertos 2017/18 y disfruta de la mejor música clásica y los mejores intérpretes.
ABONO 3 CONCIERTOS
Incluye entradas para 3 conciertos con un 15% de descuento sobre el precio general + 1 CD de regalo
Los conciertos incluidos en l'abonament 3 son:
20 de febrero
Réquiem de Verdi
Corazón y Orquesta del Gran Teatro del Liceo
Director: Josep Pons
15 de marzo
La Heroica de Beethoven y el concierto nº2 de Rachmaninov
Gabriela Montero, piano
Jaime Martín, director
Orquesta de Cadaqués
11 de mayo
La Pastoral de Beethoven y el concierto nº3 de Rachmaninov
Vladimir Ashkenazy, director
Denis Kozhukhin, piano
Orquesta de Cadaqués
Precios
Zona A: 184,45 €
Zona B: 146,20 €
Zona C: 114,75 €
Zona D: 86,70 €
Zona E: 56,10 €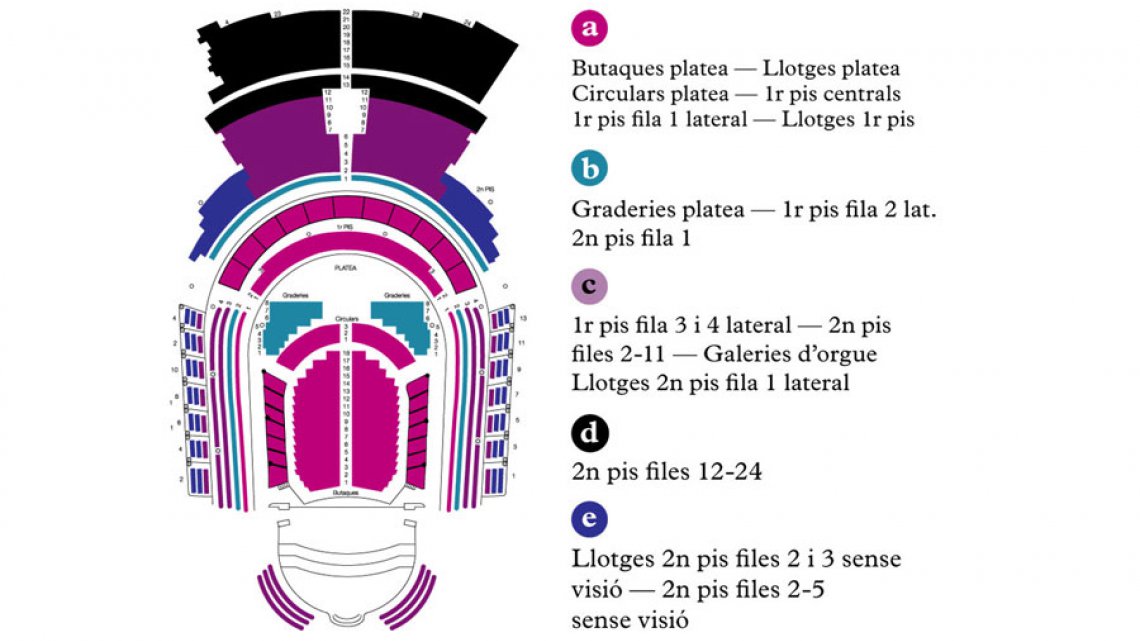 Disco de regalo
Y de regalo, te enviaremos a casa un CD del director Gianandrea Noseda con la Orquesta de Cadaqués (obras de Schumann, Schubert o Brahms).
También puedes comprar por teléfono (93 342 61 75, de lun. a vie. de 9 a 18 h)
O en las oficinas de BCN Classics (C. Enamorats, 35. 08013 Barcelona. De lun. a vie. de 9 a 18 h)
Exclusive benefits for season ticket holders
Purchase of a season ticket -15% discount on single ticket sales.
Access to the best available seats before tickets go on sale to the general public.
The same seat for all the concerts.
Personalised attention
Possibility of maintaining the same seat if you renew for the 2017-18 season.
Preferential attention if you request a change of seat location.
Receipt of the evening programme direct to your email, one week prior to the concert.
Preferential access to all extraordinary activities organised by BCN Clàssics, such as open rehearsals, or artist encounters.
Receipt of newsletter with information of our concerts and artists.
Payment options
We offer the following payment options:
Credit card payment via internet and in all points of sale.
Cash payment in all points of sale except internet.
Bank transfer (only in the BCN Clàssics offices).
Changes and modifications
BCN Clàssics reserves the right to change the programme if causes beyond its control make it necessary.
If an artist should become incapacitated and unable to offer the concert on the planned dated, BCN Clàssics will fix an alternative date. If this were not feasible, it would look for a substitution of equal or superior quality.
Only in the event of a concert cancellation will the proportional part of the cost of the individual or season ticket be refunded.
Ticket returns and non-payment
Once the ticket purchase is completed, BCN Clàssics will not admit cancellations or returns.
In the case of payment by installments, the non-payment of any one installment will lead to the immediate cancellation of the subscription and the payment of any incurred bank charges.
Concert start times
All concerts start at 8PM, except the last one that will start at 9PM